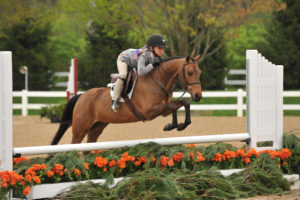 Do Bow Size and Shape Matter?
Imagine this scenario: You have prepared for months to excel in your class, making sure you and your pony showcase your precision-perfect winning moves. You've prepared your attire from head to toe, ensuring your safety and reflecting your style. And, to highlight your individuality, you've adorned your braids with large, colorful hair bows, which draped halfway down your back. Unfortunately, the beautiful bows covered your number and irritated the judges, who have ultimately eliminated you from the class!
An Insider's Guide to Equestrian Hair Bows
In the last 15 years, hair bows have surged in popularity within the equestrian circuit, especially among children and parents. However, frustration has been mounting amid trainers, judges, and show officials over the size, design, and shape of these accessories.
The problem?
Many over-sized equestrian hair bows cover the rider's number on her back, making it difficult to determine who's who in the ring. And, the larger the bows, the more they bounce, serving as a distraction from the rider's performance rather than a complement to her attire.
The Solution?
Turn to PonyTail Bows, a trusted resource that sets the gold standard for creating classically beautiful equestrian hair bows designed for both function and style. Using a propriety method, we hand-craft the right product at the right size that wins the approval of riders, parents, judges, and trainers. (Who says you can't please everyone?)
3 Keys to Bow Etiquette
The perfect bow needs to marry both performance and panache. Follow these three tips for proper bow etiquette to set yourself apart from the competition and wow the judges in the process:
Fit

. Take your age and size into consideration. From a tiny leadliner to a more mature pony hunter, bows should fit the size of the rider's back.

Class

. What class are you showing in? For a finals class, opt for a more neutral bow. For a pony jumper class, choose a color that pops.

Details

. Look for symmetry in the hair bow, such as even loops and straight, equal-length tails with cut, heat-sealed ends.
Insider Secrets
Want more information and insider tips? Then check out our YouTube Channel for in-the-know guidance on how to make the best braid, how to wear an equestrian hair bow with long hair in the show ring, how to attach a bow to a braid correctly, and much more!