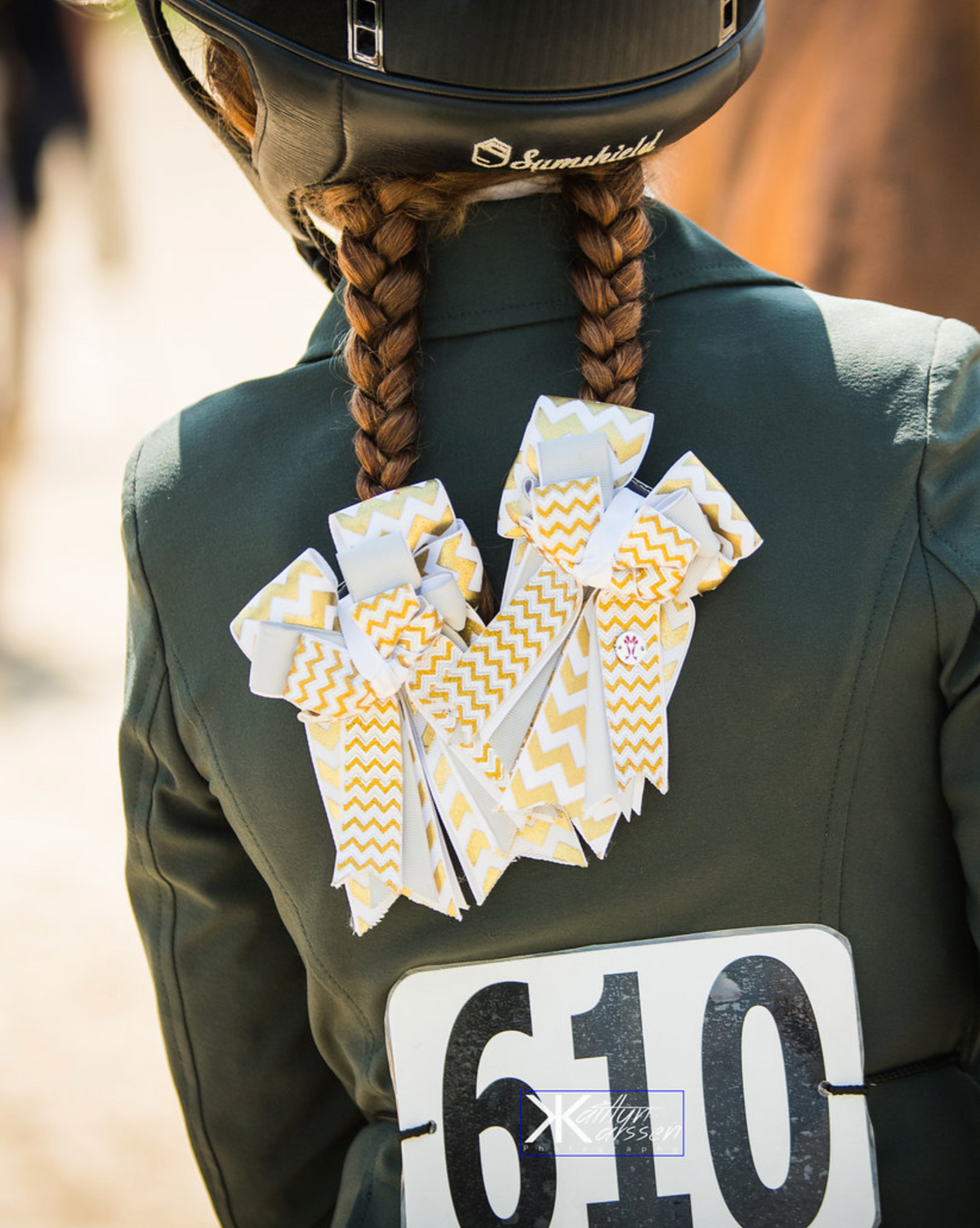 Big distracting bows are out. Braids down your back covering your number will result in a rider not being judged or eliminated. What can you do?
We have the SIMPLE solution! PTB's will never cover your number when you braid to the blade! As we have perfected our product over the years in shape and style, we realized we needed to make sure when riders wore our bows the dreaded covering the number issue would not be a problem.
Here are simple easy steps to follow to create the perfect braids, attach your bows and make sure your number is all clear.
1.Put on your helmet! 
Avoid the crushing, painful helmet head headache. Put your helmet on BEFORE you braid, then separate your hair into 2 sections.
2.Spritz away
Add a few sprays of water before you start braiding to secure all those fly aways. 
3.Section the rider hair as close to under the helmet as possible. 
Divide each section of hair into 3 parts. Braid  hair all the way down as far as you can and secure with mini rubber bands. This really helps avoid a bulky end to the braid, instead of using a regular hair elastic. If the ends are longer than your shoulder blade, roll approx a 1" section under the braid, keep the braid under itself and nice and flat. Keep rolling in sections until the end of the braid reaches the bottom of the rider's shoulder blade, push flat andsecure one more time with mini rubber bands.
4.Attach bow with french barrette. 
Weave barrette through the braid for thick hair or snap on top for a snug fit! If you use hair elastics, hold bow on top of braid and twist elastic around braid not moving the bow. This ensures your bow will sit straight!
**PTB braiding tip! To create a straight even braid, keep your hands close to the rider back using it as a guide. The result is a nice straight even braid!
Now go ride your pony knowing you look your very best and the judges will be thrilled to see you have taken the time to show them respect as well!