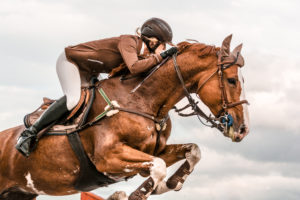 For centuries, equestrianism has been considered a hobby, sport, pastime, and passion for hundreds of thousands of people across the world. It has evolved from the sport of kings and nobles in European nations, to become the favorite after-school activity for pony clubbers. In fact, today, the equestrian sport thrives in a variety of disciplines throughout the United States. 
The History of Equestrianism
The term "equestrianism" stems from the Latin word, "equus," meaning horse. A quick look at the history books reveals that the first equestrian sporting contest dates back to 682 BC with a four-horse chariot race during the 25th Olympiad in Greece.
Fast-forward to the knights of the round table, and you will find that equestrian sports focused mainly on jousting events at local fairs. It wasn't until 1868 that equestrianism's popularity quickly spread throughout Europe and North America with the introduction of the royal Dublin Horse Show. By 1912, the Olympic Games had added the equestrian sports of show jumping, dressage, and eventing, to the line-up, and the rest is history.
The Popularity of Equestrianism 
Horseback riding is an incredibly popular sport and pastime within the United States. In fact, the United States Equestrian Federation (USEF) has over 91,000 members who are dedicated to upholding the values of their beloved sport. In addition, there is the United States Eventing Association, United States Equestrian Team, United States Hunter Jumper Association and many other state-level equestrian clubs, foundations and organizations that all boast healthy memberships.
There are several reasons that horseback riding is so popular within the United States. First and foremost, the horse has been an influential entity throughout U.S. history. From transporting Native Americans across the plains, to helping settlers travel out West, to their role as a beloved pet and helping hand on farms, the horse can be found thriving in various stables and homes throughout America.
The United States also does a great job of making the equestrian sport accessible to people from a variety of backgrounds. Through summer camps, therapeutic riding programs such as Pegasus, to thousands of recognized competitions in show jumping, eventing, dressage, driving, endurance, polo, vaulting, fox hunting, racing, and Western disciplines. The United States is truly supportive of equestrianism. 
Whether you are just discovering the equestrian world, or are in search of the perfect outfit for your pony-rider, be sure to check out the PonyTail Bows Blog for upcoming posts about all things equestrian. To learn more about dressing up your rider in the latest fashions, visit our PonyTail Bows Shop.