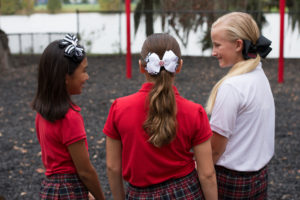 What Are the Best Bows for Girls' Hair?
Looking to add a little panache to a special girl's outfit? Top off her look with an amazing hair bow.
As one of the most versatile, must-have accessories every girl should own, hair bows allow a girl to express her individuality. In fact, even adults love hair bows, as seen on the runway this spring! But with so many options, what are the best bows for girls' hair?
Choosing the perfect bow really depends on a few factors, including the girl's age, the thickness of her hair, the reason for the bow (i.e., special occasion, cheerleading), the outfit it will accompany, and the girl's style preferences.
Here are a few things you should look for when scoping out the best bows for girls' hair:
Go for Comfort!
If a hair accessory pinches, scratches, pulls hair or digs into the scalp, girls won't wear it no matter how beautiful it is. The best hair bows need to walk a fine line of looking stylish and feeling comfortable.
What's It Made Of?
Common ribbon and fabric materials for bows include grosgrain, satin, velvet, tulle, and chiffon. Many of the more exquisite, hand-crafted bows might include several types of ribbons layered or woven together for a truly unique look.
Also, pay attention to how the bow attaches to the hair. Although sturdy French barrettes work better for older girls (or younger girls with thicker hair), alligator clips work well for all ages–especially the younger ones. Since babies and toddlers have such fine hair, alligator clips seem to stay put and feel good—two key elements of styling little ones just right. Other bows use fabric-covered elastic to hold the hair in place, usually worn with ponytails and braids.
Style Options
Here's where the fun comes into play! Bows come in a dizzying array of fabric, sizes, colors, patterns, and textures, allowing girls to choose pieces that fit their personality and style preferences. With fun patterns (hello, polka dots and chevron!), feel-good textures (like satin and velvet), and vibrant colors (fuchsia or electric lime, anyone?), hair bows make their own fashion statement, from classic and elegant to trendy and playful.
Durability
In addition to the comfort, materials, and style, choose bows that offer both function and durability. This way, a girl can get years of wear out of her carefully chosen hair accessory.
What are the best bows for girls' hair? The ones that make them look and feel beautiful—inside and out.
Insider Secrets!
For more information and great styling tips—like how to create the best braid, how to wear a bow with long hair in the horse show ring, and how to attach a bow to a braid correctly—check out our YouTube Channel.