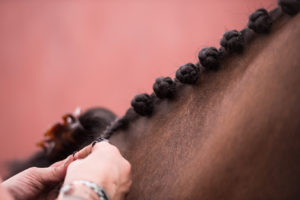 After months of training, you are ready to compete in a horse show. But what steps should you take for horse show preparation?
Groom Your Horse:

 

You should be

 

grooming your horse

 

every day year-round, including brushing his/her coat, mane and tail (for a healthy coat and tangle-free appearance) and picking her hooves (to keep them clean, comfortable, and healthy).If your horse needs a full-body clip, schedule this one-to-two weeks prior to show day. Otherwise, clip overgrown areas (such as whiskers and fetlocks) a few days in advance. The night before the show, bathe your horse so he/she is clean and shiny.
Figure Out Logistics:

 

Determine whether this horse show will be a day-trip or require an overnight stay, and then figure out the logistics. If it's just a day trip, you will be working off the trailer and need to bring everything your horse needs. If you will be staying overnight, you'll need to reserve a stall for your horse and book a hotel room for you and your family.
Pack Necessities:

 

Show day requires a lot of planning, so check with your trainer and make a checklist of

 

everything

 

you and your horse will need for the show. What you'll pack will vary depending on the type of show and if you are staying overnight. Don't forget to bring the necessary health paperwork, forms, and a first aid kit with supplies (for both you and your horse) to treat minor injuries.Horse essentials include:* food and hay
* buckets for water
* grooming supplies
* tack
* stall supplies (i.e., shavings, hay, pitchfork)
Rider essentials include:
* class-appropriate show attire (i.e., for English class: coat, breeches, shirt, boots, gloves, helmet)
* change of clothes and/or extra show attire
* hairnets and/or hair bows to prevent fly-aways and maintain a clean, elegant look
Bring a Buddy:

 

Although show days buzz with excitement, they can be busy and stressful—for you and your horse. To minimize your horse's anxiety, consider bringing a companion horse to ride along in her trailer. To ease your own nerves (and have a built-in helper), bring a friend to the show.
Relax and have fun.

 

Yes, it's a competition. But if the end goal is simply racking up ribbons, you're missing the point. Competitions should be

 

fun, and if you don't enjoy the journey, you'll burn out quickly. Take each horse show in stride, learn from each experience, and, quite literally, relish the ride.
By using these tips as a starting point, you can be confident that you'll be prepared for your next horse show.